Historic Buildings
Accuracy and attention to detail is fundamental to Jonathan Booth Conservation. The team of stone masons regularly undertake site surveys to record dimensions, complex profiles and features of its stonework's. These surveys are then translated using AutoCAD for the purposes of approval and manufacture.
This could be for the replacement or repair of an individual stone unit, to the production of a full replicated version of a particular scheme. Drawings are produced for all work including cleaning, pointing, takedown and building projects, a complete manufacture package is available; including the production of general drawings together with cross-referenced detail sheets and cutting lists.
Stone Restoration
Our specialist stone restoration team undertakes complex and difficult projects with great skills. With a reputation for quality and attention to detail, Jonathan Booth Conservation's craftsmen can repair stone to closely match the existing stonework. All the original detail will be preserved or replenished if worn or damaged.
It is occasionally necessary to replace an element of a building when the integrity and function of a stone has been lost. This is often the case with the weathering elements of a building such as string courses, mullions and parapets. The introduction of new elements into an historic building is always carried out by our experienced masons with the utmost sensitivity to the surrounding weathered surfaces. Appropriate choice of stone and fixing method are of paramount importance to us, and a delicate compromise must often be achieved between function and aesthetics.
Brick Restoration
Along with the more common 'raking out and repointing' a particular speciality is sourcing, matching and fixing brickwork and pointing to exactly match those of the existing structure.
Jonathan Booth Conservation conducts exhaustive searches to ensure the correct clay, sand and stone are used in both re-build and restoration projects. It also boasts an extensive brick and stone library where clients can cross reference samples they have retrieved from their building or structure.
War Memorials
Jonathan Booth Conservation are often consulted by local councils and parishes around the country to give advice on the correct cleaning and conservation methods for their local war memorials.
Our works include:
Consultation & specification.
Masonry cleaning & restoration.
Repair of stone, repointing and re-craving of names
New & refurbished metalwork
Churches
Church Buildings
Our clients employ Jonathan Booth Conservation on ecclesiastical building conservation and restoration projects because of our attention to detail and craftsmanship.
Specialist services in recent projects, in addition to stone masonry included:
Specialist Joinery works.
Lighting conductors
Heritage roofing works
Lead sheet works
Cast Iron Rainwater goods
Painting works
Stained glass window repair
Maintenance
Church buildings often require general maintenance and protection features installing such as pigeon netting, mesh grilles, and bird protection spikes. Maintenance tasks such as gutter and hopper clearing are often made difficult due to their height and access issues. Jonathan Booth Conservation are able to offer all of these installations and services, sometimes utilising our rope access team where necessary.
Monuments
It is due to our expertise in treating the fabric of historic buildings as a whole that we are able to bring an in-depth understanding of the environment in which a church monument sits. These structures are inherently affected by their micro-climate and it is essential to understand the source of decay in order to devise appropriate methods of treatment. Damage is often caused by oxidisation of ferrous fixings and movement in core material. We will always seek the route of minimum intervention for church monuments but where dismantling is the only solution, we are able to combine the skills of masons and conservators to ensure both stability and sensitive surface repairs.
Recent Church projects
1st Presbyterian Church (N.S.), Newry
McCracken Memorial Presbyterian Church, Belfast
Hyde Park Presbyterian Church, Mallusk
Baptist Church, Lurgan
Dunluce Presbyterian Church, Bushmill
Thomas Street Methodist Church, Portadown
1st Presbyterian Church, Bangor
Kirkpatrick Memorial Church, Belfast
St Clements Parish Church, Belfast
Natural Stone Interiors
Jonathan Booth Conservation also provide a bespoke natural stone restoration and maintenance service to Hotel Technical Directors, Facilities Manager, Property Directors or even private householders who do not have the resources or expertise to repair, clean and maintain the interior and exterior stone around their properties.
When it comes to hotel occupancy rates, last minute cancellations or guest demands we are flexible in our approach and ready to respond meeting the most demanding of requirements. Our team of technicians can carry out emergency repairs to a bath top, re-joint a leaking marble sink, or fix a chipped shower tray almost by stealth. When it comes to hotel work, our technicians always work with absolute discretion.
The initial service is then complimented by a regular maintenance contract which is individually tailored to ensure that all your natural stonework is kept in excellent condition throughout the year.
It is important to note that our technicians are not commercial cleaners, but experienced stonemasons that understand the properties and characteristics of this natural stone and always employ methods and chemicals that will enhance the natural beauty and prolong the lifespan of the stone.
The scope of this work is all encompassing ranging from simple abutment flashings to rainwater heads; from downpipes and water cisterns to roof embellishments and even statuary decorative elements.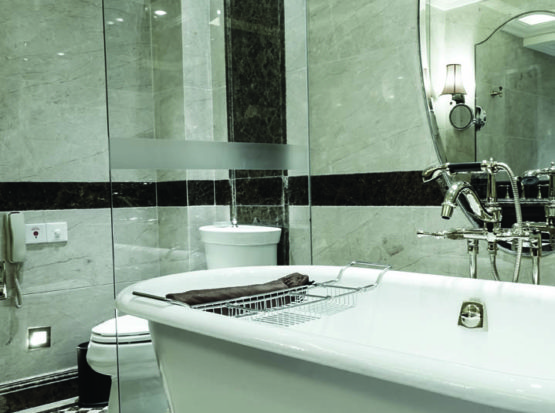 Diamond polishing
Vitrification
Stain removal
Chip and scratch repair
Colour enhancement
Regrouting
Anti-slip treatments
Replacement stone to match existing
Impregnation
Protective coatings
Ceramic tiles
Porcelain baths
On-going maintenance programmes
Recent Hotel Clients
Mandarin Oriental, Knightsbridge
One Hyde Park Apartments, Knightsbridge
The Hari Hotel, Belgravia
Jumeriah Living, Hyde Park
Conrad St James Hotel, Westminster
Marriott Hotel, Canary Wharf
Grosvenor House Hotel, Hyde Park
Blake's Hotel, Chelsea
The London Edition, Fiztrovia
Private Lodge, Verbier, Switzerland
Port Lympne Mansion House Hotel, Kent
Natural Stone Sourcing, Specification & Supply
We select beautiful natural stone from Europe and Asia's best quarries, using our years of industry experience as natural stone suppliers to find the ideal product for you. We offer architects, contractors and other buyer's stones of unrivalled quality, handling every stage of the sourcing, finishing and importing process with the utmost care and attention.
We know our stones inside out. Every fossil fragment, every vein. Our technical knowledge about our natural stone is exceptional, allowing us to act as stone consultants to help you select the perfect material for your project.
Architects and designers look to us as expert advisors because we understand their vision. We know how important it is to find exactly the right material to complement their designs, and we'll search until we find it.
Of course, we appreciate that you're not just looking for a colour-match that sort of works if you squint, or a finish that's perfect as long as you don't actually touch anything. You need to know every detail – is it frost-resistant, acid-resistant and what variation should I expect? Not forgetting durability and lead times. We will make sure what you get is exactly what you need.
You're looking for quality, so we make sure we find it
Our drive to select natural stone of the highest standards means we travel internationally to see quarries first-hand, carrying out factory visits to ensure excellence. Those visits are open to you too – there's no mystery about our suppliers.
This unflinching dedication to quality is backed up by CE certification and the Ethical Trade Initiative supply chain. This unflinching dedication to quality is backed up by CE certification and the Ethical Trade Initiative supply chain.
"The finest workers in stone are not copper or steel tools but the gentle touches of air and water working at their leisure with a liberal allowance of time."
Henry David Thoreau (1817-1862)